The Stitch-N-Frame Shop in Vicksburg, Mississippi has been in business since 1983. It is a full-line quilt shop with over 9,000 bolts of fabric including over 1,000 Batiks. The store started out with cross-stitch and knitting supplies and over the years those have been phased out and quilting has taken over.
The owner Mary Kay Elliott inherited the shop from her mother and is carrying on the tradition of serving all of central and western Mississippi and eastern Louisiana with the finest quality quilt fabrics, books, notions, classes, blocks of the month, kits and all the things quilters need. Stitch-N-Frame is an authorized Bernina Dealer & Gammill Dealer.
We're located at Exit 11 off of I-20, a major east-west Interstate stretching across the South. If you're ever in the area please stop by and see us. Vicksburg has a rich history from the Civil War and there are battlefields you can tour, antebellum homes with cannon balls still embedded in the walls, and a military park with a Civil War museum, just to name a few of the attractions.
If you need our address for your GPS, you can find us at:
31 Willow Creek Drive
Vicksburg, MS 39183
601-634-0243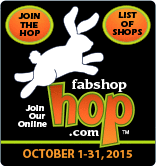 The bunny is planning to go as Miss Haversham for Halloween...
Or maybe a ballerina...
What kind of fabric would she need?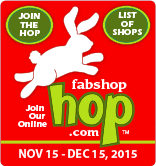 They're used in everything from typewriters to hair accessories, Christmas presents to fashion...
what could the bunny be after?